Hundreds of educational assemblies for all ages for over thirty years have enriched the lives of hundreds of thousands of children with the exciting traditional harp music of Latin America, educational concepts and fascinating anecdotes of the REAL LIFE ADVENTURES of migration and hardship of the performer.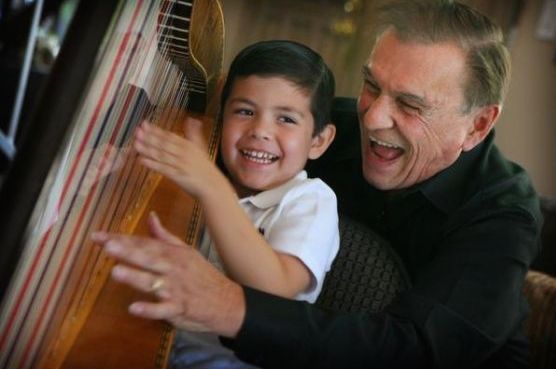 EDUCATIONAL ASSEMBLIES FOR STUDENTS OF ALL AGES  
Elementary school to university levels 
(See below WORKSHOPS/MASTER CLASSES for MUSIC PROGRAMS)
NOTE: During a "RESIDENCY," in conjunction with solo recitals or concerts with orchestra, Alfredo offers the option of these educational activities for the presenting organization. (See "ABOUT PERFORMANCES")

Besides a medical degree, Dr. Ortiz's background includes studies and work in the fields of Music Therapy
and Sensory Motor Learning. 

Contrary to common believes about the harp, LATIN AMERICA IS THE LAND OF THE HARP more than any other place in the world: As a folk instrument, the harp is played in all Spanish speaking countries of South America as well as in Mexico. "La Bamba" is traditional harp music from Veracruz, Mexico, from the 1600s. The "Official National Dances" of Venezuela, Paraguay and Chile are "harp music." The instrument used by Alfredo, the "Paraguayan Harp," is the Official National Instrument of Paraguay.

Alfredo is the author of the FIRST BOOK EVER WRITTEN ABOUT THE LATIN AMERICAN HARPS:
"Latin American Harps History, Music and Techniques." (Originally published in 1979, the second printing of the third edition is available now. See books and PDF downloads page)

AWARDS WINNER EDUCATOR
Alfredo has presented educational assemblies for hundreds of thousands of students of elementary school, middle school and high schools throughout the country (USA) and internationally and also as an artist of the "LOS ANGELES MUSIC CENTER ON TOUR" program. On December 4th, 2004, at the Los Angeles Music Center, Dr. Alfredo Rolando Ortiz received the PASA AWARD (Professional Artists in Schools Award). He has also received LIFE ACHIEVEMENT RECOGNITION AWARDS from the DEPARTMENT OF EDUCATION OF THE STATE OF CALIFORNIA, the CITY OF LOS ANGELES BOARD OF SUPERVISORS and the CALIFORNIA ARTS COUNCIL. 
ASSEMBLIES THEMES:
The ELEMENTARY SCHOOL to HIGH SCHOOL assemblies content is adapted to the age and educational level of the students.
"WORLD ADVENTURES WITH MY HARP," based on his own REAL LIFE ADVENTURES as he traveled from his country of birth, Cuba, to Venezuela, where he learned to play the Venezuelan and Paraguayan folk harps, and then to Colombia where he began his career as a performing and recording artist, supporting his medical studies with his music until graduation, then continuing to become an internationally acclaimed harpist, composer and educator. Music from several countries is interspersed with fascinating commentaries about his life and the music as well as concepts of geography, history and more. 

 "THE CYCLE OF WATER ON A HARP":  Learn the cycle of water while enjoying music composed to the sea, the rain, rivers, lakes, clouds and his own composition "IGUAZU," dedicated to the world famous waterfalls in the jungle of South America, where the whole cycle of water can be experienced constantly. (see the video of IGUAZU).

"WORLD HOLIDAY CELEBRATIONS ON A HARP," including music from several countries to celebrate Christmas, Hanukkah, Kwanzaa and the "New Year." 
WORKSHOPS & MASTER CLASSES FOR MUSIC DEPARTMENTS
High School, College & University Levels •  FOR ALL INSTRUMENTS  
Prevention of Injury & improved Learning and Performance.  
For teachers and students of all instruments, all levels: 
This lecture-demonstration will improve your awareness of various aspects of your playing, facilitate the performance of difficult passages and techniques and help prevent tendinitis. Learn good habits easier by focusing on the right aspects of your techniques. Prevent or correct bad habits. Among the many places where this has been presented, in April, 2008, the audience was the Guatemala National Symphony Orchestra and students of the Guatemala National Music Conservatory.  
South American Music, Fun Rhythms for All:
For teachers and students of all instruments, all levels: 
A demonstration of various unique rhythms, polyrhythms and syncopations from several countries. A fun and educational multicultural experience of interest to all music departments. The material presented in this lecture-demonstration is very different from the material covered in classical music curriculum and offers a new and very enriching experience.