Above: Workshop, July, 2014, during the WORLD HARP CONGRESS in Sydney, Australia. Alfredo had to accept a second session, repeating the workshop, due to the large number of harpists that wanted to attend.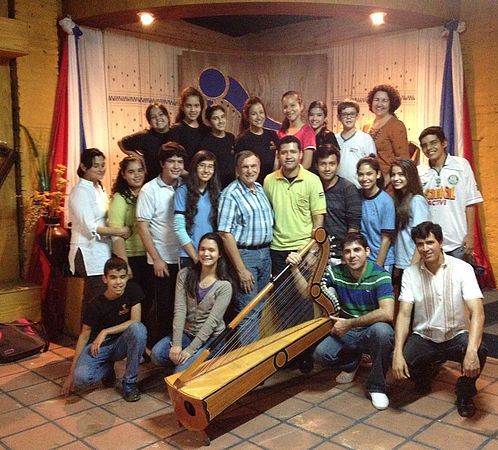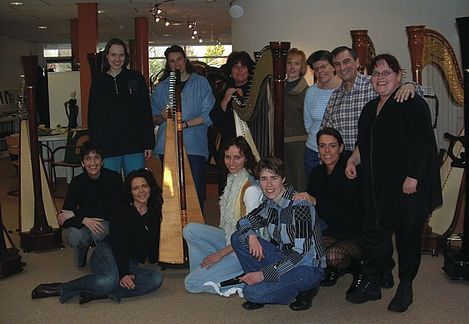 Besides a medical degree, Dr. Ortiz's background includes studies and work in the fields of Music Therapy and Sensory Motor Learning. Hundreds of teachers and students of pedal harp, lever harp and Latin American harp have attended his workshops and lectures in Scotland, Germany, The Netherlands, Australia, Northern Ireland, Canada, Paraguay, Japan, Brazil, Mexico, Venezuela, Colombia, Guatemala, Switzerland and the USA.  
His is the author of the FIRST BOOK EVER WRITTEN ABOUT THE LATIN AMERICAN HARPS: "Latin American Harps History, Music and Techniques, for pedal and non-pedal harps,"  already in it's third edition.
He has offered WORKSHOPS and MASTER CLASSES at harp events around the world, including:   
Harp Week, The Netherlands  
World Harp Festival, Northern Ireland  
Edinburgh International Harp Festival, Scotland  
Somerset Folk Harp Festival, USA  
First National Harp Festival, Australia  
Beginning in the Middle, USA  
International Folk Harp Conference, USA  
American Harp Society National Conference, USA  
Soka International Harp Festival, Japan  
Southeastern Harp Weekend, USA  
Latin American Harpists Encounters (Mexico, Venezuela, Brazil)  
WORLD HARP CONGRESS: The Netherlands-1983, Austria-1987, United States-1996,  
Czech Republic-1999, Switzerland-2002, Australia-2014 and Hong Kong-2017
WORKSHOPS & MASTER CLASSES FOR HARPISTS:
The Rhythmic Harp: "Latin and South American Music: Fun Rhythms for All!"
For professionals, teachers and students • All harps • All levels 
• Demonstrations of various unique rhythms, polyrhythms and syncopations from several countries. A fun and educational multicultural experience. Depending on time available you may learn to play habanera, conga, cumbia, tango, zamba, joropo, polca paraguaya, cha-cha-cha, etc.  
• Ideas for creating your own rhythmic accompaniment patterns for other types of music.  
• Learn how to minimize left hand effort during repetitive rhythmic patterns. 
SPECIAL and FUN unique Latin American Harp Techniques • All harps • All levels 
Mini-glissandi, Muffled Glissandi, Muffled Bass Patterns, Trino (mandoline-like effect) and more unique techniques from the Latin American harp traditions and Alfredo's own unique approach to learning them all with MINIMUM EFFORT. . Great ideas for those interested in the Pop or Jazz harp or any one interested in expanding their potential at their instrument! Note: Do not worry about the names of the effects . . . they are new to you! 
PREVENTION OF INJURY AND IMPROVED LEARNING AND PERFORMANCE: 
For professionals, teachers and students • All harps • All levels 
• Improve your awareness of various aspects of your playing, facilitate the performance of difficult passages and techniques and help prevent tendonitis.
• Learn good habits easier by focusing on the right aspects of your techniques.
• Prevent or correct bad habits.